The exciting sport for the young cowboys and cowgirls.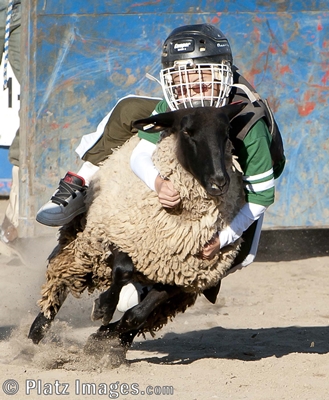 Children are so excited when they come to our events to be a part of the show as competitors in the Mutton Bustin'.  Their faces light up the Buckin' Ohio arena as they experience the thrill of riding a live sheep, geared up like a real cowboy or cowgirl in their professional attire with helmet and vest — the fans cheering them on.  The excitement is contagious and this is one of our most talked about events.  It is cowboy style, action-packed western fun for the children and their families, and we are always excited to meet the up and coming Mutton Busters.
At each event, the top two Mutton Busters are awarded prizes.  Scores are maintained from all summer series events.  We keep track of the scores and the high point winner of the series for the year wins the official Buckin' Ohio Mutton Bustin' Series Buckle.
If your child is competing for the year-end championship buckle, you will want to arrive early at our events and get in line as we can take only the first 20 contestants who sign up.  We regret that we will not be able to make any exceptions due to the time constraints of our performance.
Official Rules for Buckin' Ohio's  Mutton Bustin'
A release/waiver of liability and indemnity agreement must be signed by the parent or a legal guardian.
Only children ages 5 to 9 can compete;
Weight restriction – maximum 65 pounds as shown on Buckin' Ohio's scale is the limit.  For the safety of the sheep, we are unable to make any exceptions.
All children are required to wear a vest and a helmet and goggles (provided by Buckin' Ohio)
Participants should wear jeans or long pants;
Participants cannot wear open shoes, sandals or flipflops.  Closed shoes are required (e.g., athletic shoes or cowboy boots).
Timed event: 6 second ride. The cowboy/cowgirl who holds on for 6 seconds and produces a good ride wins;
All children must wash hands after ride is completed; wet wipe sanitizers will be available.
ONLY THE FIRST 30 CHILDREN IN LINE WHO MEET THE REQUIREMENTS WILL RIDE.
The children will be supervised and instructed by our bull fighting clowns in the proper way to hold on and ride.
Registration starts at 4:30 pm on the day of the event.
Event Time: Mutton Bustin 5:30 pm
Entry Fee:  $20 per person